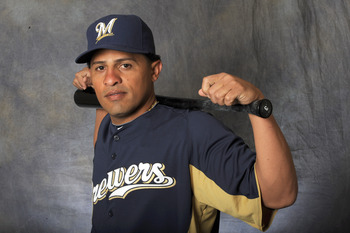 The Brewers made a minor move after last night's game, moving shortstop Alex Gonzalez to the paternity list. Gonzalez's wife is in Florida and is due to give birth soon. In his place, the club called up infielder Eric Farris from Nashville.
Gonzalez should only be gone for a few days, and nobody can fault him for wanting to be with his family at this time, but the Brewers are still going to miss him. In the past couple weeks, Gonzalez has been competent, which is all any of us can really ask for, given last year. He hasn't shown a ton of offense, but has shown enough power to be more than dead weight with the bat. His glove and range have both been pretty good, even if he is yet to really shine on defense. Just by virtue of those two things, he will likely be a couple of wins better than Yuniesky Betancourt.
Unfortunately, the Brewers don't really have a solid option to replace him. Farris isn't really a shortstop, so it looks like Cesar Izturis will fill in for the time being. Izturis should be able to replicate Gonzalez's performance in the field, but he's going to struggle to replace even Sea Bass's modest contributions with the bat. Yovani Gallardo's career OPS is 20 points higher than Izturis', and the shortstop is several years removed from what can loosely be considered the prime of his career. Izturis' glove makes him an acceptable utility option, but if Gonzalez is forced to miss any extended period of time later on, things could get ugly.
As for Farris, he has some skills and some sort of future in the big leagues, just not a role on this year's club. Farris makes a lot of contact and has good speed, but he doesn't have much power. His hands and range at second base are very good, but he doesn't quite have the arm to play shortstop regularly. It isn't clear if Ron Roenicke has any plans to use him, but he's probably not anything more than an emergency option for this year. Brewers fans aren't likely to see much more of Farris this year: The club would likely look for another shortstop if Gonzalez or Izturis went down, and Taylor Green and Brooks Conrad would both be more attractive non-shortstop utility options. However, in the future, his speed and hitting ability could probably make him somebody's utilityman, or Dusty Baker's leadoff hitter.