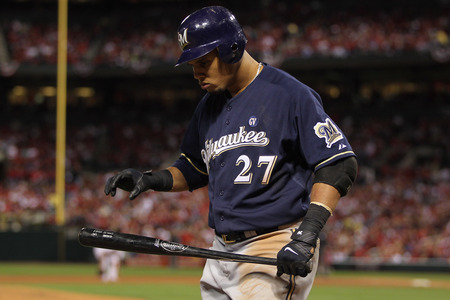 A lot went on yesterday, so much that I couldn't cleanly fit it all into one post. So, we're going to do a quick roundup of the things we didn't cover:
(Ed. Note: Unless I suddenly get much better at fitting this kind of stuff into a larger narrative, this will probably become a semi-regular thing. -NP)
— Alex Poterack from Disciples of Uecker already pointed this out, but it's worth restating: The decision to pick Travis Ishikawa over Brooks Conrad for the last spot on the bench seems even stranger now that the move has seemingly backfired on the Brewers already. Yesterday, down four with two on in the fifth inning, Ron Roenicke's best pinch-hitting option against lefty Jaime Garcia was Norichika Aoki, a left-handed hitter. Conrad, a right-handed hitter who has hit .268/.358/.465 against lefties for his career, would have made a lot of sense in that situation. (Of course, Conrad is on the DL in Nashville right now, making the point somewhat moot.)
Ishikawa isn't a bad guy to have off the bench, but he seems like a poor fit for the current Brewers roster. Ishikawa is a left-handed hitting first baseman/outfielder, and the Brewers already have a lefty-hitting first baseman (Mat Gamel) and multiple left-handed hitting outfielders who can also pinch-hit. To me, Conrad would make much more sense, given the Brewers' dearth of both right-handed bench bats and infield reserves. However, this probably won't be a big deal for long. The bench situation is usually pretty fluid, especially at the beginning of the season, and the various minor controversies that arise (Remember Erick Almonte making the team over Brandon Boggs last year?) tend to work themselves out before too long.
– Are you a fan of Opening Day? Carlos Gomez is too. The typically light-hitting outfielder has gotten the start for the Brewers the past three season openers, and has made the most of all of them. Check out his lines:
April 5, 2010 vs. Rockies: 5 PA, 4 H, 1 2B, 1 HR, 1 SB, 2 R
March 31, 2011 vs. Reds: 5 PA, 1 H, 1 HR, 1 BB, 1 SB
April 6, 2012 vs. Cardinals: 5 PA, 2 H, 1 3B, 1 RBI
So, Gomez has hit .500/.533/1.143 on Opening Day with the Brewers, compared to .239/.289/.381 with the club overall. This doesn't really mean anything, aside from Gomez flipping his bat slightly more than usual, but I find this kind of stuff interesting, and I'm guessing I'm not the only one. (For what it's worth, Gomez is 1-for-8 on the second game of the Brewers' season.) 
— On a much more serious note, we offer our heartfelt condolences to the Uecker family today. Steve Uecker, 52, the son of broadcaster Bob Uecker, passed away yesterday as the result of complications from San Joaquin Valley Fever. Bob does plan to announce today's game against the Cardinals, but we hope everyone keeps the family in their thoughts and prayers.